Source: Minghui.org
At Purdue University's Spring Fest 2017 on April 8 and 9, Falun Gong practitioners held a popular free exercise workshop to share the cultivation practice's teachings and gentle movements with students, faculty, and campus visitors.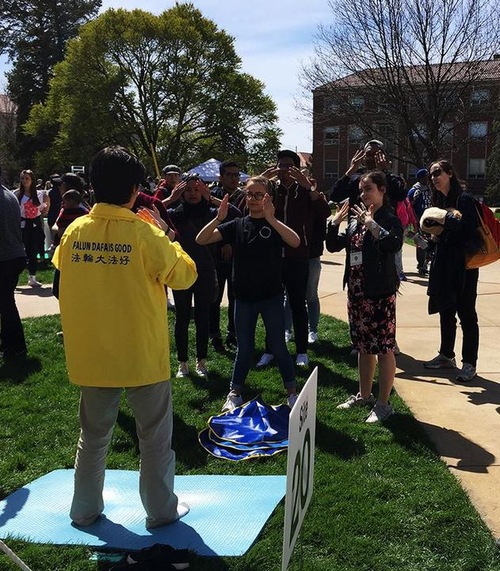 Spring Fest, the largest annual event on campus, attracts more than 30,000 visitors every year.
On the lawn in front of Memorial Hall, waves of people stopped by the practitioners' booth. Some of them visited again the next day, having taken Falun Gong flyers the day before. Many of them left email addresses and signed up for the free workshop at Happy Hollow Park on the weekends.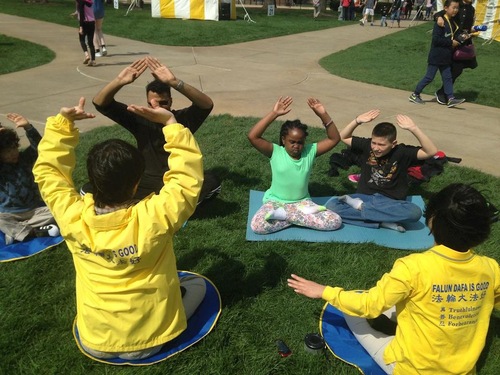 Many people had already heard about Falun Gong. A high school girl said that her teacher had talked about the persecution in their social studies class, but this was the first time she had seen Falun Gong practitioners in person. She took a stack of Falun Gong materials for her classmates and teacher.
Many Chinese people also stopped by the practitioners' booth, and some were well-informed about the persecution. They were very encouraging, saying things like, "Well done. You should hold more events like this, so that more people will know what is going on in China."
Purdue University has one of the largest Chinese student communities in the U.S., with a thousand Chinese freshmen every year.